最新动态与专题
« Back to List of Featured Articles
March 2021 Asia Furniture Buying Season Remain Strong as Ever

Published 21st April 2021
March 2021 Asia Furniture Buying Season
Remain Strong as Ever
With the success of its first edition, MIFF Furniverse 2021 once again successfully conducted a productive sourcing month for the furniture community from around the globe.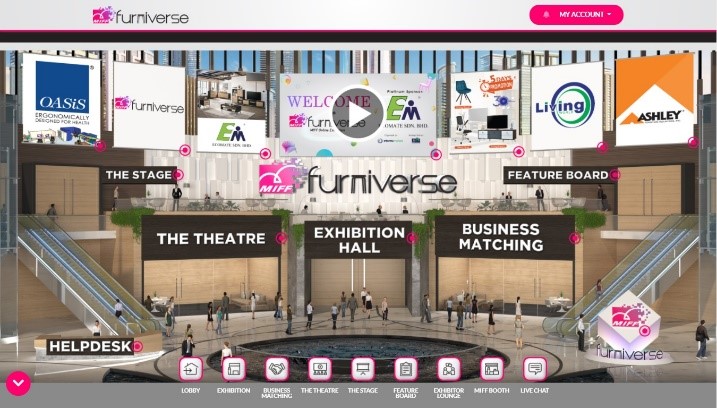 The 5-day live market event managed to attract 1,703 visits from more than 101 countries and regions, with a 31% increase in new trade buyers sourcing furniture through the platform. Amazingly, more than 3,700 business leads were generated; with a tremendous increase in sales, almost four times the volume of the previous year. Total sales through MIFF Furniverse amounted to US$ 4.55 million. It was a great achievement to see number of buyers from Asia followed by buyers from Europe and North America, despite this edition mainly followed our local time zone. Throughout the virtual event, sum of 100 pre-scheduled business meetings were successfully conducted.


We are glad to announce that the result of the second edition of MIFF Furniverse has doubled the outcome of last year event held in August 2020:
Most sought-after products among buyers:
Upholstered furniture/ Sofa
As quoted by Karen Goi, MIFF General Manager, "The responses from buyers towards the live event were much active compared to the previous edition. We were impressed with the commitment level of some buyers from countries such as Ukraine, USA, etc to attend the business meeting despite the huge time differences. They strictly followed our Asia business operating hours in order not to miss the pre-scheduled meetings".
Tey Lay Hui, General Manager, Malaysia's Home Best Enterprise Corp

MIFF Furniverse is a great opportunity to find new clients. "This is our second year
participating in MIFF Furniverse as we find the platform can support our business in the new normal. This platform helped us to promote our product offerings and find new buyers."
Mark Lim, Marketing Manager, Malaysia's Reliable Trend
"The virtual exhibition allows us to showcase our latest development to the worldwide.It is an important platform for us to expand our business leads and reach out to more buyers across the world".
Kenneth Flem, Norway
"It was a good experience, and me and my team used 2 hours to visit a lot of suppliers."
Rahul Gupta, India
"It was very good initiative during this Covid time, with such interactive platform makes it very useful and exciting."
Did we cover the suppliers you're looking for?
Browse through more than 450 products, visit MIFF Digital Showroom to stay connected with our exhibitors for product sourcing.


Stay tuned for our next edition of Furniverse!